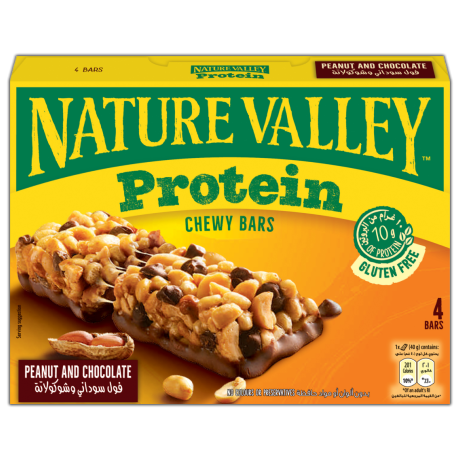 Nature Valley Peanut & Chocolate Protein Bars
Packed with 10g of protein, real peanuts and chocolate chips dipped in chocolate coating, Nature Valley Peanut & Chocolate Protein Bars are the perfect on-the-go snack. Take it wherever you go, so you have energy whenever you need it most. Nature Valley protein energy never tasted so good.
List of Benefits:
10g of Protein
High in Protein, High in Fibre
Gluten Free
No Colourings & Preservatives Added
Suitable for Vegetarians
Halal Certified
Ingredients
Roasted peanuts (40%), chicory root extract, isolated soy protein, chocolate chips (8%) (sugar, cocoa mass, cocoa butter, emulsifier (E322 from soy)), sugar, palm oil, milk protein (cow's milk), fructose, glucose syrup, peanut butter (2%) (peanut butter, salt), sunflower oil, fat reduced cocoa powder (2%), humectant (glycerol), tapioca starch, emulsifiers (E322 from sunflower and soy), salt, natural flavourings (vanilla custard, peanut), maltodextrin. Minimum cocoa content: 5.4%
Nutrition Facts
4 servings per container
Nutrtion Facts

Nutrient Name

Per 100g
%**
Energy
503 kcal
201 kcal

10%

Protein
25.0 g
10.0 g
Total Fat
30.0 g
12.0 g
Saturated Fat
8.5 g
3.4 g
Trans Fat
0 g
0 g
Cholesterol
13.0 g
5.0 g
Carbohydrate
40.0 g
16.0 g
Total sugars
16.3 g
6.5 g
Added sugars
14.8 g
5.9 g
Dietary Fibre  
13.8 g
5.5 g
Sodium
360 mg
144 mg
* Approximate values
** Based on an adult's Recommended Dietary Allowance of 2000kcal. All the nutrient % value except Energy % does not apply to Malaysia.
*
Please be aware that all our products are subject to reformulation at any given time. Consequently, we would recommend you always check the ingredient lists and nutritionals on the packs of all our products prior to purchase to determine product content.